ATRIUM Partners

We provide high quality, independent corporate finance advice based on a wealth of experience and industrial insights
Advisory Services
Value-added advice based on trust
Buying or selling a company is always a big decision and a complicated process, whether involving private individuals, companies or financial sponsors. Our advisory services are characterized by considerable involvement of our partners in close co-operation with the client. We aim to provide the right solution for the client on the basis of creative, innovative and well-considered views that are based on a combination of financial, strategic and industrial competencies. We benefit from a strong, extensive network, nationally as well as internationally.
Divestment
As a business-owner, you face a major decision if you are considering selling your business. We offer advice to owners of companies, groups of companies and private equity firms in relation to divestments. In close cooperation with the owner, we aim to obtain the highest price, the best terms, and the smoothest process for the company. Our partners and employees have many years of experience and offer great expertise within divestments, generational succession, demergers, etc.
We advise on structured auction processes, where several potential acquirers are contacted, and on bilateral processes with a single buyer. We cover all phases of the transaction but prefer to be involved early in the process to help prepare the business for a sale.
We draw on our international network in the ADVIOR International when approaching potential buyers abroad or to take advantage of specific sector knowledge within our partner firms.
Since 2003, we have executed numerous sales processes creating significant value for our clients.
Acquisition
When considering acquiring another company the choice of advisor is important. ATRIUM Partners possesses many years of experience from advising on acquisitions. This includes advice to companies wishing to take over a competitor, add technology or competencies or to enter new markets via acquisitions as well as private equity firms investing in new portfolio companies.
We emphasize a number of topics when advising on an acquisition: a good strategic and cultural fit between the two businesses, that all aspects around the target are fully explored prior to the deal, that a thorough plan has been made for the financing of the deal as well as the subsequent integration of the target, and that the price and contractual terms are attractive in the light of the expected synergies and advantages from the deal.
Merger and joint venture
As a business owner considering a merger or a joint venture, you will be faced with various critical issues that must be addressed early in the process. ATRIUM Partners has throughout the years advised on several mergers and joint ventures.
Despite a merger or a joint venture being a complicated and demanding process for most companies, our skills in creating innovative solutions combined with our deep insights into our clients' business and markets, enable our clients to feel comfortable throughout the process.
IPO and ECM advisory
An IPO or equity offering is a complicated and challenging process that requires significant time and effort from a company and its management. The partners in ATRIUM have advised on IPOs and equity offerings since 1985 to more than 100 companies on NASDAQ OMX Copenhagen and several foreign exchanges, including Novozymes, ISS, Vestas, Falck and Tryg. We can therefore offer high quality, independent advice in structuring a listing or equity offering. Our services include the following:
Considerations regarding equity offering or listing, timing, and assessment of alternatives
Pre-listing preparation including review of business plan and investment case, positioning, capital structure, dividend policy, future value creation, corporate governance, and board composition
Organising bank syndicate or underwriters for listing/equity offering, choice of other advisors and negotiation of terms, and subsequent monitoring of contribution and performance
Coordination of listing or equity offering process including due diligence, preparation of information materials and prospectus
Structuring and monitoring of the sales process, including research coverage and investor contact, as well as pricing and allocation decisions
Debt advisory
Financing a business today is complex, not least because of increased demands from banks. Financing is one of the core skills of ATRIUM. We offer debt advisory including:
Optimisation of capital structure, including the choice of financing and the use of alternative forms of financing
Negotiation with banks in terms of loan structure, covenants, and repayment profile
Acquisition financing, including securing debt capacity and conditions in connection with the purchase of a business or activities
Restructuring advisory on strategic alternatives, changes in debt structure and re-establishing capital
Detailed financial modelling including cash flow analysis, strategy under funding constraints, counterparty risk, risk management and assessment of debt capacity
We have extensive experience in negotiating with banks, cash flow risk modelling, designing financial terms and restructuring of debt that ensures long-term solutions in difficult funding situations.
Valuation
The assessment of the value of a business is a core task when considering an acquisition or a sale of a company, or a merger of two companies. Valuation analysis is one of the core competencies of ATRIUM Partners.
We perform valuation analyses in various situations, including:
Fairness-opinions in relation to a public tender offer
Incentive programs for management and employees

Preparation of exit-strategies
We strive to be updated with the latest valuation techniques, and we have built a significant knowledge base over the years by performing numerous valuations for clients in various industries.
Strategy and transaction services
In addition to the usual corporate finance services, we also provide consulting within closely related fields where we can add value for our clients such as:
Strategic advice and strategy development in preparation for a possible acquisition or divestment
Development of acquisition strategy to create optimal conditions for the execution and implementation of acquisitions
Establishment of incentive programs for key employees to align the interests of employees and owners
Financial and commercial due diligence in relation to acquisitions/divestments to avoid unnecessary surprises and understand the potential risks involved
Since 2003 we have completed various strategy assignments that have created significant value for our clients.
ATRIUM in numbers
2007
Part of ADVIOR International
Values ​​& business philosophy
Integrity and independence
We strive for the highest level of integrity. We have no lending activities, no equity analysis, and no trading activities. We are a pure advisory firm and have only one interest in mind – the client. We are free from conflicts of interest that may arise in financial groups
Trust and seniority
We have a constant focus on building dependable, long-term client relationships. We do what we say. Our partners are always close to our clients and involved in all relevant parts of the process
Professionalism
We always seek to be industry leaders with regards to quality. We are dedicated and persistent and achieve results through insight and business understanding
Transparency
We provide advice that is transparent and easy to understand. We provide solutions that are tailored to the client
Experience and skills
We provide advice based on significant and long-standing financial and industrial experience. We continue to expand our competencies and team, which is one of the most experienced in our industry
Innovation
We provide value-added innovation and solution-oriented advice
Team
Show entire team Se less of the team
International
ATRIUM is part of the international network ADVIOR International and Wells Fargo International giving us global reach and local operational presence in more than 40 countries. ADVIOR International is represented in Europe, North America, and India. Clients of ATRIUM benefit from dedicated local partners, who contribute essential local expertise, relationships, and resources. Read more about ADVIOR International here.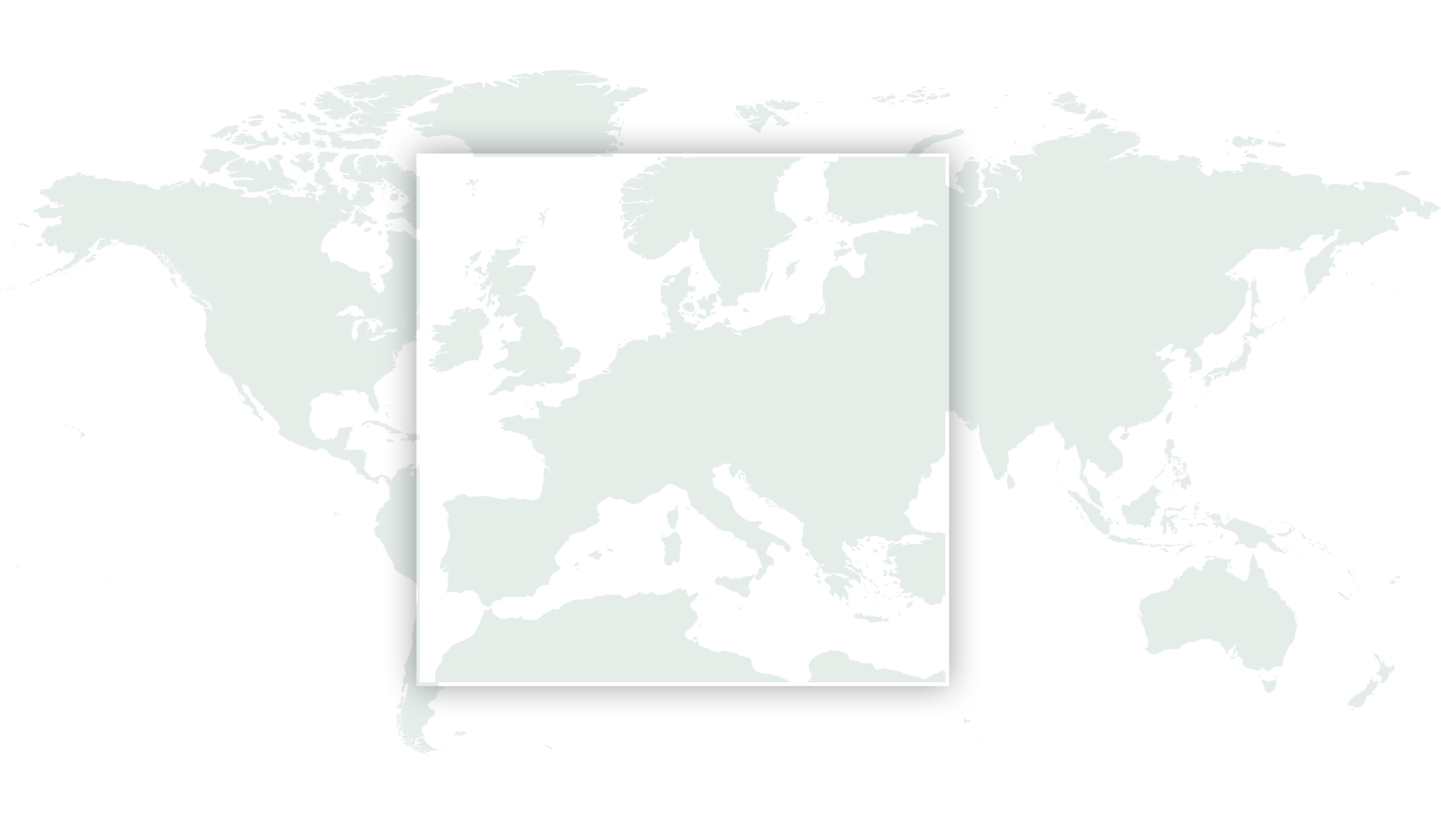 Awards
We have continuously received several international recognitions for our advice to business owners and companies with interests in Denmark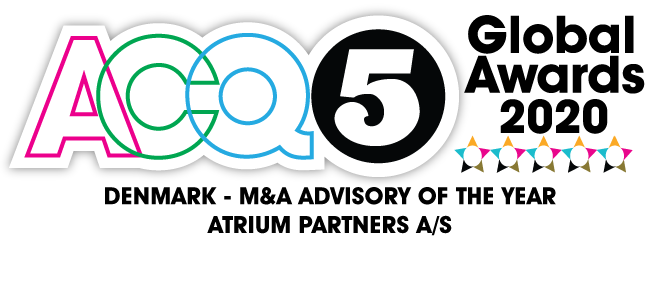 M&A Advisory Firm of the Year – Denmark
2020

Corporate Adviser of the Year – Denmark
2019
M&A Advisory Firm of the Year – Denmark
2018
Contact ATRIUM
ATRIUM Partners is conveniently located in Hellerup, a 15-minute drive from the centre of Copenhagen and a 5-minute walk from Hellerup Station. There are excellent train connections to Hellerup Station from Copenhagen Airport and Copenhagen Central Station.
Arriving from Copenhagen Airport: taxi directly to the office or the train to Hellerup Station. Travel time by taxi is approximately 25 to 40 minutes, depending on the time of day.
Arriving by car: parking available behind the office which can be accessed from Onsgårdsvej.
ATRIUM Partners A/S
Strandvejen 102B, 2nd floor
2900 Hellerup
Danmark
CVR-/VAT-no: 27 36 11 10
Tel: +45 39 48 10 10
Email: info@atriumpartners.dk
Press contact
ATRIUM welcomes enquiries from the press. For enquiries regarding interviews, for permission to reproduce or publish pictures from the gallery, or for further assistance, please contact:
Jan Davidsen
Founder & Managing Partner
Peter Mahrt
Managing Partner